Home » Real Estate » SC Builders » Bridgetown Construction Co.
Bridgetown Construction Co: Charleston, SC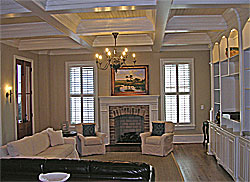 BILLY HYDE DIFFERENTIATES himself and his company with a hands-on approach to building custom homes that exceeds each customer's expectation in both design and details. His primary focus, however, is building relationships with his customers and sharing in the completion of their dream home before, during and after the home sale.
"Our foremost mission is to bring expertise, dedication and exceptional service to the building experience," says Hyde. "Our team is committed to proactively working hand-in-hand with each customer throughout the construction process. This approach allows each homeowner to control their costs and manage their investment wisely."
Building strong relationships is not Bridgetown Construction Company's only selling point. Bridgetown also is among the leaders in using emerging technologies that enhance the home-building process.
"We are continuously educating ourselves to keep up with rapidly changing home-building practices to give our clients an exceptionally built, high-efficiency, sustainable, beautiful home that will provide added value," Hyde says.
In fact, Bridgetown Construction Company is one of a small number of home-builders in the tri-county area that has earned certification as an Earthcraft builder. Earthcraft House is a green building program that serves as a blueprint for healthy, comfortable homes that reduce utility bills and protect the environment.
"Although an Earthcraft home may add 2 percent to 4 percent in additional building costs, the homeowner will save substantially on utility costs but, more importantly, enjoy a more comfortable, quiet and healthy home," says Hyde.
Bridgetown Construction Company is an Energy Star Partner and an active member of the Custom Home Builders Council of the Charleston Trident Home Builders Association and the National Association of Home Builders.
Led by Hyde, Bridgetown's team of Project Manager Ryan McKeithan, Customer Coordinator/Office Manager Cheri Taylor and Interior Designs by Karen Hyde will continue to distinguish itself with exceptional customer service and innovative thinking.
"We pride ourselves on holding true to the utmost in values and integrity in the construction industry while setting ourselves apart from everyone else," says Hyde.
For information about Bridgetown Construction Co. and the surrounding area contact Cheri Taylor of Bridgetown Construction
405 Jessen Lane
Charleston, SC 29492
Phone: 843-388-0611
Email Me: cheritaylor@bridgetownconstruction.com